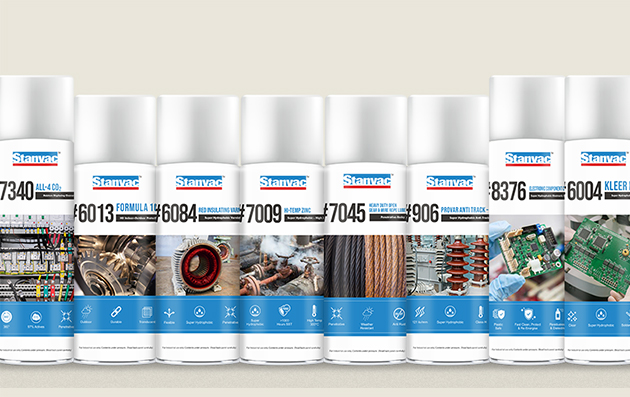 Aerosol Sprays
Aerosol Sprays are gaseous suspension system that disperses liquid particles into a gaseous mist. Its application is valuable worldwide in industries like healthcare, cosmetics, air fresheners, pesticides, Industrial spray & paint, cleaning agents, food & packaging and many more.
Stanvac India is one of the leading Aerosol Spray Manufacturers in India. It uses the highest quality global-sourced bulk concentrates, raw materials, and technology advancements to enhance the standard of Aerosol Spray Products not only in India but worldwide. The company also utilises its upgraded, ISO-certified manufacturing facilities to offer the best-in-class products. Stanvac India commitment to providing excellent quality Aerosol Products has made it one of the most trusted Aerosol Spray Manufacturers in India.
Types of Aerosols Spray Stanvac India Provides:
(A) Smart Spray's – Stanvac has introduced First ever High pressure – fast action, rust penetrator & online, non-flammable – plastic safe super hydrophobic electrical cleaner in the country. This creation has made Stanvac one of the most innovative Aerosol Spray Manufacturers in India.
(B) Mechanical – The company also provides top-notch mechanical aerosols in the industry like Rust Penetrators, Degreasers, Rust Sealer, Super hydrophobic Anti-corrosion, Zinc Sprays, Paint & Gasket Removers, Antiseize, Lubricants, Rust Preventatives & Photo Glow Paints etc
(C) Electrical – With the best in the industrial Electrical Aerosols, Stanvac is renowned for popular products like Online & offline electrical cleaner , Super hydrophobic cleaners, Moisture displacers, Super hydrophobic insulation & protection, Fire Prevention, Battery Maintenance, Energy Saving & Joint Protection.
With topmost quality, world-class technology and notable innovation, Stanvac India has become many industry leaders' first choices amongst countless Aerosol Spray Manufacturers in India.